Hearing Protection
Welcome to uvex safety Australia & New Zealand experts in hearing protection.
We have ear plugs for different situations and environments. Our wide range of ear plugs includes disposable ear plugs, reusable ear plugs, detectable ear plugs, banded ear protectors and earmuffs.
All uvex hearing protection products comply with the Australian Standard AS/NZS 1270 Acoustics – hearing protectors.
The earplugs are sustainably produced in Sweden, with no emissions of CO2 and according to the highest standards of production, compatibility and quality.
Hearing protection – additional information
Noise-induced hearing loss has long been recognised as one of the most common occupational hazards. The tricky thing is that noise damages hearing gradually and painlessly. This is why we develop hearing protection for all situations and all noise levels, with speech and signal perception still possible.
How to find the right hearing protection?
The appropriate form of hearing protection varies according to the wearer's ear and the area of application. Find out more how to find the right earplugs for your application here.
Corded ear plugs - uvex xact-fit range
The unique design of the uvex xact-fit is shaped to fit either the left or right ear, making the earplugs easy to insert and remove. More information
uvex Decibel app for iPhone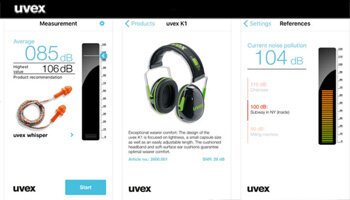 The uvex decibel app measures the acoustics of the surroundings and recommends the appropriate hearing protection – from ergonomic disposable earplugs to ear defenders. uvex offers innovative solutions for industrial health and safety.
Hearing Loss Impact
Noise-induced hearing loss (NIHL) is the sudden or gradual loss of hearing due to exposure to loud sounds. Find out more about it's wider implications: HERE
How to fit earplugs correctly?
The proper use of ear plugs requires that they be securely fit in the ear canal. If the ear plugs are not properly seated, they may provide almost no protection. To get the best protection from your foam earplugs, remember to roll, pull, and hold when putting them in. Learn how to fit your earplugs with our helpful video and flyer here.