Next Level Cut Protection
uvex safety has launched two new gloves for optimum cut protection.

uvex D500 foam
The new generation in cut protection
Made with the latest generation of our patented uvex Bamboo TwinFlex® Technology with the additional strength of steel fibres and DSM Dyneema Diamond fibre technology, the uvex D500 foam glove combines comfort features such as maximum flexibility, perfect fit and dexterity with outstanding cut protection performance to EN 388:2016 (level D) standard. The glove is highly resistant to abrasion, for prolonged product life and exceptional cost efficiency.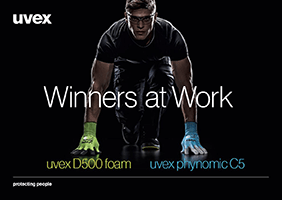 High-tech for added safety
The latest generation of Bamboo TwinFlex® technology
uvex boosts cut protection to the next level. The comfort class together with cut protection helps increase wearer acceptance – particularly when carrying out demanding activities. The unique combination of natural bamboo and high-tech protective fibres ensures a high level of wearer comfort and good climate control while also providing effective protection. After all, a safety glove can only help to prevent accidents if the user actually wears it.
uvex phynomic C5
Exceptionally lightweight cut protection
The uvex phynomic C5 is an exceptionally lightweight, all-round cut protection safety glove to EN 388:2016 (level C) with outstanding tactile feel ideally suited to high precision mechanical activities. The glove boasts excellent abrasion resistance thanks to the breathable, damp-resistant aqua-polymer foam coating. The glove is free from accelerators and has been independently dermatologically tested providing a glove that is skin friendly with high wearer comfort, especially for those with sensitive skin.
Innovation for added precision
DSM Dyneema® Diamond technology
Thanks to innovative DSM Dyneema® Diamond fibres with integrated microparticles, we've been able to create a significantly thinner and more touchsensitive cut protection safety glove. 2 DSM Dyneema® Diamond is a registered trademark of Royal DSM N.V. uvex combines this high-performance fibre with comfortable elastane fibres to produce a lightweight cut protection safety glove to EN 388:2016 (level C) with outstanding tactile feel.
The uvex group
The uvex group brings together three globally active companies under one roof: the uvex safety group, the uvex sports group (with uvex sports and Alpina Sports), and Filtral. The uvex group is represented in 22 countries by 48 subsidiaries but chooses to do most of its manufacturing in Germany. Two thirds of the company's 2.300-strong workforce (as at 31 July, 2015) is employed in Germany. uvex is a global partner to international elite sport and equips a host of top athletes. The motto protecting people is at the heart of the company's activities. uvex develops, manufactures and distributes products and services for the safety and protection of people at work, in sport and for leisure pursuits.
Have any questions? Media contact:
UVEX SAFETY AUSTRALIA LIMITED PARTNERSHIP
Unit 3, Riverside Centre, 24-28 River Road West
NSW 2150 Parramatta
Australia
Telephone: (02) 9891 1700